Professional
FRANCO ORITI, born in Australia,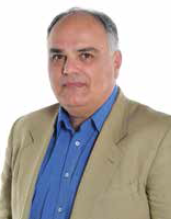 lived in Sydney and has worked in safeguarding, filing and maintaining Intellectual Property (I. P.) since 1991.
University degree in International Political Science obtained at University of Milan.
He is currently working in this capacity in Lugano (CH) after having done so in Milan in Montedison Group and in Notarbartolo & Gervasi and in Lugano in N&G Patent Services.
Has many years' experience, throughout the World, in the Renewal of Patents of Invention, Designs, Utility Models, Supplementary Protection of Certificates, Textile Designs, Plant Varieties and Trademarks.
Since 1999 Franco takes also care of filings till the grant and maintenance of I. P. in Switzerland.
He is registered as an Trademark, Patent and Design Representative before the Swiss Federal Patent Office, also as a European (n.4688) and Italian (n.793M) Trademark and Design Attorney and also as a San Marino Trademark Attorney (n.USBM-078R M). 
Has very good skills for creating "ad hoc" I. P. Databases for handling Due Dates and Reports.
Has an ability to establish plans, for the internal departments of Companies and Patent Firms, to manage costs and reduce expenses for all I. P. maintenance fees and renewals, Worldwide.

I. P. Consultant at InnoPark, Manno (Canton Ticino), CH (www.innopark.ch).
From March 2015 he is an "IPMA Certified Project Manager", re-certified 2020 Level D, n. IPMA-D-2015-8025/1 (www.vzpm.ch).
From May 2016 "Business Partner for I. P." of Qualicon, Camorino (www.qualiconsulenze.ch).
I. P. Coach for StartCup Ticino 2017 (www.startcup-ticino.ch)
Languages: English (mother-tongue), Italian (mother-tongue), French (good), German (scholastic) and Russian (scholastic).
Since 1998 Italian Red Cross Volonteer.
For further details kindly click on

| | |
| --- | --- |
| | Oriti Patents is in 2023 "Vita di soci" in the magazine "Ticino Business" of the Chamber of Commerce Canton Ticino CH (in Italian) |
| | Oriti Patents is in 2023 Virtual IP Round Table for Switzerland in CorporateLiveWire |
| | Oriti Patents is in 2023 Global IP Directory for Switzerland |
| | Franco Oriti, Expert Guide 2023 in Intellectual Property published in CorportateLiveWire, page 55 |
| | Franco Oriti, Mancano i vaccini, problema dei brevetti!, su ItaloBLOGGER, 3 Feb 2021 (in Italian only) |
| | Oriti Patents in THE IPR GORILLA, dec 2020 |
| | Oriti Patents on CorporateLiveWire 2019  |
| | Oriti Patents on Global Law Experts 2019 |
| | Oriti Patents and IP Due Dates su Global 100 - 2018  |
| | Oriti Patents and "Intellectual Property" on Lawyer Monthly, a UK magazine, April 2018 |
| | Advice on Logo published in Corriere del Ticino on March 8, 2018 (in Italian only)  |
| | Course sheet "I. P. in the Internet Era" at "Course for Adults Canton Tessin" |
| | Teacher "I. P. in the Internet Era" at "Course for Adults Canton Tessin" starting October 5, 2017 (ten evenings) |
| | Oriti Patents on Stil'e' a four-monthly magazine of IL SOLE 24 ORE, May 2017 |
| | Oriti Patents on AI (Acquisition International), monthly english magazine, February 2017 |
| | Speech "I. P. in the Internet Era" at the Swiss Management School in Giubiasco, February 8, 2017 (in Italian only) |
| | Brexit and I. P. published in Corriere del Ticino on June 21, 2016 (in Italian only) |
| | Teacher "Short course on I. P." at Qualicon based in Camorino (flyer in Italian only but course may be conducted also in English) |
| | Interview on "Vita dei Soci"of the Chamber of Commerce of Tessin Canton in "Ticino Business", May 2016 (in Italian only)  |